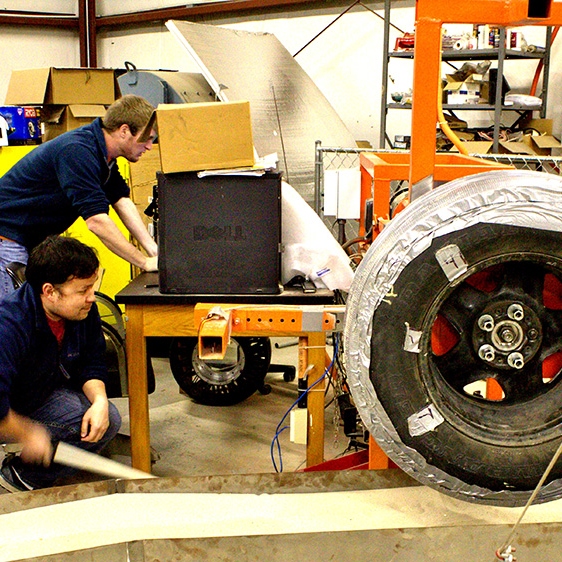 Alyssa Glazener
In a warehouse, a team of mechanical engineering students is conducting research to be implemented where few undergraduate endeavors venture: the moon. Their work involves improving a wheel that must roll smoothly through sand, gracefully manage rock piles and scale daunting inclines.
The project, led by seniors Steven O'Shields and Zach Satterfield is composed of nine undergraduates. Mechanical engineering professor Dr. Joshua Summers began the Creative Inquiry, Development of Sand Traction Concepts, more than seven years ago.
"The purpose originally was for NASA. It was a NASA-funded project to come up with a wheel," Satterfield said. NASA developed an All-Terrain Hex-Limbed Extra-Terrestrial Explorer (ATHLETE), a multi-legged robotic platform for transporting large items, such as a living space for astronauts, on the moon. However, since the lunar terrain differs in texture and consistency from the asphalt that most earth-bound vehicles are designed for, ATHLETE needed a new type of wheel on its "feet."
The average vehicle wheel intended to travel over asphalt is convex, or curved outward. The convex tread pushes debris, which would otherwise cause friction and slow down the vehicle, out from under the wheel. The tread is the shape of the tire's exterior that creates traction.
"The tread helps you be efficient with moving the vehicle," Satterfield said. The team has determined that a concave shape, with an indentation around the middle of the wheel's exterior, is the most efficient shape for moving across sand. This design grips the sand and gives the wheel something more solid to push off of, so that for each rotation, it travels the maximum distance possible.
By testing different wheel designs, the team found that a concave tire covered in non-porous foam moves most efficiently. While they were satisfied with its traction, they wanted to make the tire more durable, because the foam was easily damaged during testing.
"We don't always get the perfect prototype. Dr. Summers harps on that you learn more from failure than from success," Satterfield said. To make their product more suitable for extraterrestrial travel, their latest design includes a layer of Kevlar, a strong yet lightweight material, over the foam-covered concave tire. The nine student engineers hope that this design will successfully combine an efficient tread with materials strong enough for use on the moon.
The team tested various characteristics of their Kevlar design, such as velocity and endurance, with the longest test running up to ten hours. By passing the durability test, which previous versions had failed, the Kevlar prototype has become their most successful design yet.
Although the project is intended for space exploration, Satterfield and O'Shields anticipate that their work will also be practically applied on Earth. Their new wheel could be used on any vehicle that travels over sand, from recreational dune buggies to military transports. It would allow a vehicle to move more efficiently thus using less fuel.
In Aug. 2013, Summers, O'Shields, Satterfield and senior Justin Moylan attended a conference for the American Society for Mechanical Engineers in Portland, Oregon. Their paper, which Satterfield presented, was the only undergraduate publication at the conference.
"I don't think many other schools have undergrad research like this, where it's run by undergraduate students,"
O'Shields said. The team looks forward to presenting at more conferences as they continue to determine the weaknesses of their Kevlar-covered wheel and how it can be improved.
The students are the driving force at every level and stage of the project because Summers believes that giving the students ownership of the project provides them with more learning opportunities.
O'Shields and Satterfield also gain leadership experience. Along with the other seniors, Moylan, Brett Smenteks and Coleman Heustess, they partner with the students who have not yet taken advanced mechanical engineering courses.
"It's really a lot of fun working with these people, working with their strengths and weaknesses and trying to get the ultimate goal accomplished of getting a tire that works right" O'Shields said of younger team members.
https://ci.clemson.edu/blogs/wp-content/uploads/2022/01/croppedIMG_3167_1.jpg
562
562
creativeinquiry
http://ci.clemson.edu/blogs/wp-content/uploads/2021/12/Main-Horizontal_CoIn_340w.png
creativeinquiry
2015-05-22 09:11:17
2022-01-27 22:56:54
Improving Wheel Traction in Sand and Lunar Terrain